Corangamite CMA Knowledge Base
The Corangamite CMA Knowledge Base is an extensive collection of publications and technical reports on all aspects of the catchment. The collection focuses on information written specifically for the Corangamite region. The database has been indexed by subject and locality for information retrieval and analysis.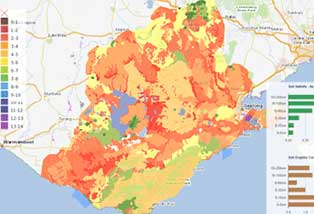 An online repository of soil health information and knowledge: including reports, research papers, maps and descriptions related to current and past soil series mapping, land capability and suitability assessments, agricultural trials, and soil research and investigations.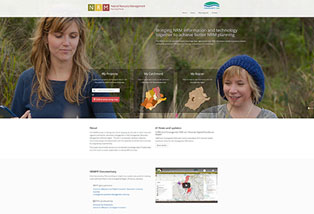 This pilot project is testing how online mapping can be used to match local and regional priorities for catchment management in the Corangamite Catchment Management Authority region.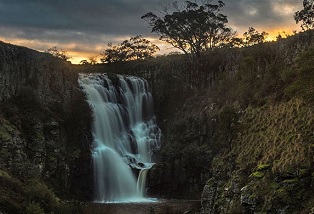 This site will help you Discover the Living Moorabool, highlighting it's many values including cultural history, beautiful waterfalls, places to picnic and walk as well as great spots for fishing, the Moorabool has it all!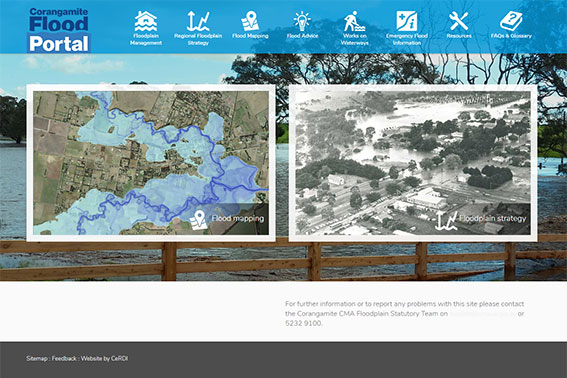 The Flood Portal brings together information for stakeholders on floodplain management within the Corangamite Region, including an interactive flood report, and provides the opportunity for stakeholders to input into the Corangamite Regional Floodplane Management Strategy.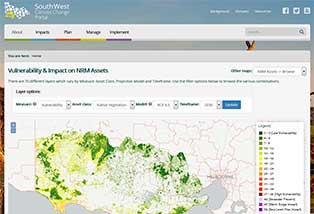 The South West Climate Change portal provides regionally specific climate change information to support NRM planners, land managers and community groups adapt to a changing climate.
Waterwatch Victoria is a successful community engagement program connecting local communities with river health and sustainable water issues and management since 1993.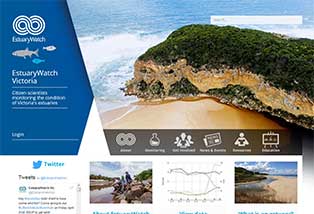 EstuaryWatch is a successful citizen science program that supports community members to actively participate in the monitoring of estuary health.
Related initiatives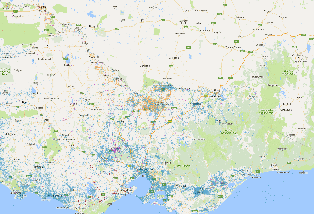 Visualising Victoria's Groundwater provides a central site for accessing Victoria's groundwater information. VVG consolidates data from multiple authoritative sources, includes 2D and 3D visualisations, hydrogeological models and historical records and maps.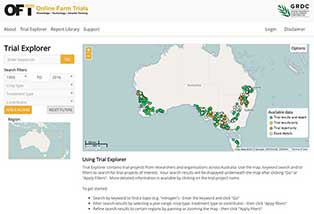 Online Farm Trials Online Farm Trials is an exciting initiative that brings nationwide grains research information directly to the grower, agronomist, researcher and the wider grain industry through innovative online technology.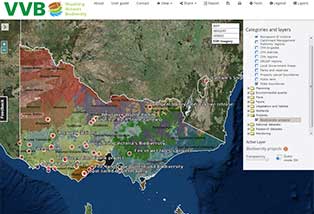 Visualising Victoria's Biodiversity provides a central site for accessing Victoria's environmental information. VVB brings together existing environmental datasets and information created and managed by government agencies, organisations, community groups and individuals. VVB is a partner site to SWIFFT.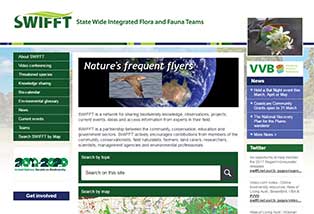 State Wide Integrated Flora and Fauna Teams are advancing citizen science by facilitating awareness, information and knowledge sharing across Victoria and south-eastern Australia.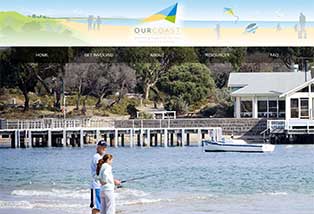 The Our Coast project is bringing local governments and the Geelong and Bellarine Peninsula communities together to plan for climate change in areas such as sea level rise and storm surge.
Research links